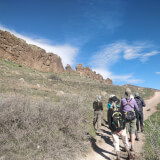 Tiny Trekkers
Public Program - Age Range: 2-5 years
Bring your 2-5 year old for a morning filled with nature exploration, stories, and connection with our amazing natural world. A parent or guardian must accompany the child for this program. Registration is required but program is free. Please call Natural Resources main desk at (970) 619-4564 or 4570 the night before or day of program to cancel or inquire about availability. This program will run again at Lions Open Space later in the week.
Minimum Participants:
4
Maximum Participants:
20
Registration is required for this activity. Click "register" to reserve your spot.
General Info
Ellen Harris
(970) 498-5629