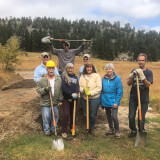 New Volunteer Orientation
Volunteer Opportunity - Adults, 16+
Learn about the Department of Natural Resources and all the ways you can get involved as a volunteer! Also learn about the tools and resources available to volunteers for a successful and fun experience. Orientation will last approximately one hour, with time for questions afterwards. Registration is required. This orientation will be held in person however it may move to Zoom to follow current health guidelines. Registered participants will be notified of a location change via email.
Minimum Participants:
5
Maximum Participants:
15
Registration is required for this activity. Click "register" to reserve your spot.
Links